Well, I'm definitely maxed out at 5 pins in my current basement. After some fast and furious acquisitions, I'm hoping I can be content and actually play them for a while. I've spent time on all of them, but some of the newer ones, like Simpsons, I've barely scratched the surface on.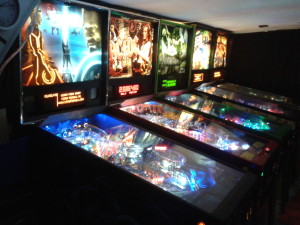 I realized that the 5 pins are all by 5 different great designers, so it is a nice cross-selection:
Tron – John Borg
Theatre of Magic – John Popadiuk (Jpop)
Avengers – George Gomez
The Simpsons Pinball Party – Joe Balcer / Keith Johnson
AC/DC – Steve Ritchie / Lyman Sheats
Notable omissions would be: Dennis Nordman and Pat Lawlor…. hopefully I can add one of their machines in the future.